I meet many managers and entrepreneurs, and most of them — if not all — are working hard to lift their business to the next level. There are more roads that lead to Rome, and some of the most taken ones are:
Improving their website
ERP
SEO
Ads and campaigns
Automation of processes
Expanding the sales force
Hiring new marketing talent
And granted: most of the time, business seems to improve. But all these efforts also cost a lot of money. And how can you know which investment really impacts the progress your making, and how much? Can you even measure this?
Yes, we can.
That's what I focus on within Wiljekoffie. By mapping out the customer journey and getting an overview of all your actions along the way, we can find out which road will get you to Rome faster and cheaper. Key in this is the customer journey, and what you do in those steps. What's working, what isn't, and what can be automated?
The Customer Journey: from strangers to success
From the first interaction — or even before that — you can get to know your potential client. This is crucial to optimize your sales, marketing, and service actions. What can you do next to drive your potential customer forward in their customer journey? By tracking all of this in your CRM, you get a handy overview of the current status and next step. But what if your customer data is spread across different systems and platforms? That's quite the challenge.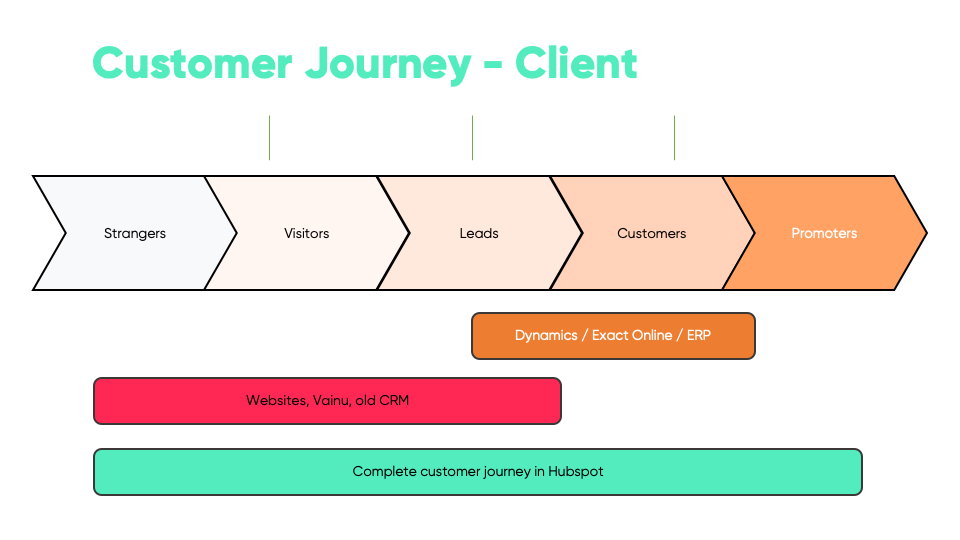 Image: Customer journey and information handoffs
You might recognize some platforms mentioned in the image above. You combine them, or use one of them, and find yourself (or your team) switching between platforms looking for information — and losing valuable time.
In comes HubSpot: it takes over all these systems and combines all data in one clear dashboard. Your team can keep working in their beloved systems, but you can finally get a complete overview of the customer journey. That comes with quite some benefits. Here's what you can expect:
Example 1: Order data from ERP back into HubSpot
You've got several channels and campaigns up and running, leading leads to that Buy Now or Book Appointment button. But which one are performing great, and which ones are a waste of money? For dashboarding, it's important to know:
From which sources am I generating traffic?
How well does each of these sources convert?
How many deals and how much revenue is coming in from each source?
Number three often can only be answered with data from your ERP or Finance System. By transferring this data to HubSpot, using an API connection, we can track exactly how much revenue is being made per source. This is great to know: you can double down your efforts on that source, or eliminate or change your tactics for other sources.
HubSpot makes it easy to filter. As soon as you have all your order data in HubSpot, you can start making smart reports and analyses. These will help you make well-thought-out decisions for your business, for instance by showing you which channels need a little more tweaking, or which campaigns did great.
Example 2: E-mail integration
To make the best use of any CRM, you'll want to log as many interactions and communications in it. Preferably without any manual work. E-mail is one of the most important forms of communication for businesses, and many of them work with G-suite or Office 365.
HubSpot takes out all the busywork of keeping track of conversations being held in the customer journey. You can simply forward all e-mails to HubSpot, automatically. Each portal has a unique forward (BCC) address. This usually looks like XXXXXXX@bcc.hubspot.com.
Why would you exactly want to keep track of all of this? Imagine someone downloads a white paper on your website, after they've already been in contact with one of your sales representatives. By logging this automatically, you eliminate data about false-positive or false-negative leads.
Worried about sending sensitive information from your MT or HR to HubSpot? You can simply exclude certain contacts from having their correspondence sent into HubSpot.
The road to growth
The big difference between growing your organization the inbound way — instead of outbound — is the adaptive capacity of your organization. You have to be driven by success and willing to experiment. But even while experimenting, you have to make sure what you are doing, basing your decisions on real, complete data. This will help you identify what is working and what are less profitable projects.
Do you also want to get a clear overview of how your sales and marketing efforts are really contributing to your goals? We're more than happy to show you how our experience and HubSpot's technology can help you reach the next level. Get in touch!